Shadowing Opportunities
Online shadow registration opens on our website on October 1st at midnight. Click "Read More" for additional information.
Shadow Feedback Form
If your child shadowed and forgot to turn in their feedback form, you can access it here! Click on "Read More" please.
Minor Work Permits
Minor work permits can be obtained for Walnut Hills High School students in our main office.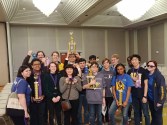 Walnut Hills Classics Team #1 in State!
13 students, 2 alumni, and 3 faculty participated in the Ohio Junior Classical Leage Convention March 8-11 in Columbus. MANY Awards were garnered by our team.