Classics ITALY Field Trip!! 2022 edition
Students who have finished 10th grade and at least one Classics elective (any 4th year Latin class, Archaeology, or Ancient & Medieval History) are eligible to participate. Fundraising is available.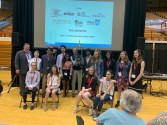 Walnut wins at the state science fair
Walnut Hills High School science fair club won the team competition at the state science fair held in St John's Arena in Columbus Ohio Saturday, May 11.