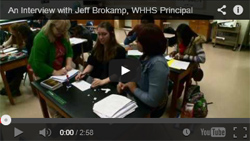 An Interview With Jeff Brokamp,
Former WHHS Principal
WHHS – How we create and deliver an excellent education
Walnut Hills High School, a college preparatory school for grades 7-12,
is nationally recognized as one of America's top public high schools
. The 2,400 member student body is culturally and ethnically diverse, with students attending from every urban neighborhood in Cincinnati. Eighty-seven percent of the graduates enter college with advanced standing, and students score especially well on the Ohio Tests of Scholastic Achievement. All students pass all parts of the Ohio Proficiency Test, 100% on the first sitting, and Walnut Hills places first in the state on the test. Upon graduation, Walnut Hills High School students are accepted by the finest universities and colleges throughout America.
Walnut Hills offers a rigorous classical program, requiring three years of Latin for incoming 7th and 8th graders. There is an Advanced Placement Program offering 3O courses, more than any other school in the nation – public or private. The school has an outstanding cultural arts program which includes five dramatic/musical productions each year, AP studio art, and award winning bands and orchestras. There are 90 competitive sports teams and over 50 extra-curricular activities. The school participates in science and foreign language competitions, the National Mathematics Examination, First Lego Robotics, the Model United Nations, and the National Scholastic Art and Writing competition.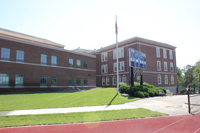 In 1895 Walnut Hills High School opened its doors at Ashland and Burdett Avenues as a neighborhood school. In 1918 the school took a new direction toward preparing students for college admission in the liberal arts. Randall Condon, Superintendent of Schools, and George Davis, Walnut Hills Principal, were committed to make Walnut comparable in every respect, to the best college preparatory schools in the nation. The program became so popular that the old building became inadequate, and on September 8, 1931, the present larger building on Victory Parkway was officially dedicated. The inspiration for the design was the Library Building of the University of Virginia and Monticello, both the work of Thomas Jefferson. It was quite appropriate that, given the purpose of Walnut Hills High School, the architecture should have reflected the classical ethos.
In 1935 the Board of Education confirmed the status of the school as "an institution specialized for college preparation." Again in 1972, the Board of Education reaffirmed the position of Walnut Hills High School as a six-year, college preparatory school. As early as 1926 a systematic method of pupil selection was adopted.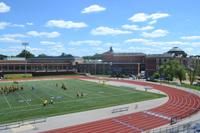 Today all students enter the school after passing a special college preparatory examination.
In 1999 the Alumni Arts and Science Center was opened. This facility has state-of-the-art science laboratories, spacious art studios, classrooms and an expanded level of technology. There is an outdoor learning area with five bio-beds and aquatic pool. This thirteen million dollar project was financed by our very supportive Alumni Foundation. Currently, the campus is undergoing a sixty-five million dollar building and renovation which will be complete in 2014. The project is funded by Cincinnati Public Schools as part of their Masters Facilities Plan. This past fall, the renovated North Wing re-opened, and in December a new competition gym and new music lyceum opened as well. This year the Alumni Foundation entered into an agreement with Cincinnati Public Schools to fund a new 6 lane competition pool, which also opened in January and is considering other projects that are not in the scope of the CPS Masters Facilities Plan.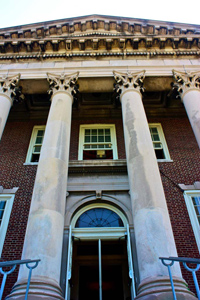 Walnut Hills brings together capable students and faculty, dedicated to intellectual achievement, to the principles of mutual and collective respect, and to the development of good citizenship. The explosion of technology has given a new urgency to the term "lifelong learner." Students employ technology to access, organize and use the enormous amount of new information available. Thomas Jefferson would truly be pleased to note that the school library, fashioned in his architectural style, is truly a center for academic pursuits. The mission of the Walnut Hills library is that students and faculty are effective users of ideas of information; to support this, the library has a fully automated circulation and catalog system with terminals networked to the Internet for student use. Students access databases of full-text newspapers and magazines through Newsbank, INFOhio, and SIRS. At Walnut students become self-sufficient in finding and using information.
In a society where we anticipate that today's students will change careers six or seven times throughout their lifetime, Walnut Hills must become an exemplary college preparatory school that is future-oriented and responsive to change. Technology must be used as a tool for learning in al areas of the school.
Now, in the twenty first century, Walnut Hills High School continues to prepare young women and men to be leaders in local, national and international communities.
The school motto is SURSUM AD SUMMUM or "Rise to the Highest."
The Walnut Hills High School faculty, bolstered by the support of 16,000 alumni and our parents, is dedicated to producing the best college candidates as well as life long learners.