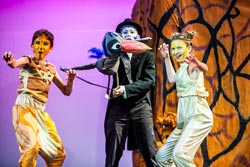 Tickets for theatre productions go on sale approximately one month before the first show. 2019-2020 ticket prices are $10 for students per ticket and $12 per adult. The WHHS Theatre Department reserves to right to adjust ticket prices as necessary per show.
All tickets for our performances can be purchased at ShowClix. To purchase tickets, please visit
Tickets
If tickets are available, they are sold during lunch periods the Thursday and Friday of the week of the show outside the
Rick Steiner Black Box Theatre
.
Also, available tickets are sold at the door, beginning 45 minutes before the start of the show.