The Walnut Hills Theatre Department would like to invite you to another incredible year of theatre! For more information on each show in our line-up, please visit the WHHS Theatre Department website at
WHHS Theatre Department
.
All tickets for our performances are available through ShowClix. To purchase tickets, please visit
Tickets
.
Auditioning
Audition information on individual productions can be found under each show on the
WHHS Theatre Department
website.
Theatre arts is an integrated part of the Walnut Hills High School curriculum. Beyond its value as a key component of an instructional strategy which emphasizes appreciation of the arts in general as a critical component of a classical education, the knowledge acquired through the study of theatre and its literature have direct relevance to the skill sets we hope to instill in our Walnut Hills graduates. Communication skills, appreciation of a body of dramatic literature, an understanding of how dramatists have used theatre as a vehicle to address social issues – these are all relevant to the themes which are at the core of our English department offerings. Furthermore, the experiences gained through participation in acting in & directing theatrical productions at Walnut, exposure to the very discrete skills of stagecraft and costume, interaction and mentoring across age peer groups, provide not just an opportunity for entertainment, but a chance for the acquisition of some real life skills - teamwork, group dynamics, responsibility, goal setting & achievement, involvement in common endeavors where the whole really is greater than the sum of its parts.
Our theatre classes provide a talent pool for extra-curricular theatrical productions throughout the year, as well as the intensive productions from Advanced Theatre classes which are an extension of their classroom work. However, participation in the extra-curricular productions is not limited to students taking theatre classes. There is also a fair amount of cross-curricular collaboration on musical productions with the Music Department, many of whose vocal students play lead roles, and whose instrumentalists participate in the pit orchestras for those productions.
Our facilities include a 700+ seat classical auditorium with professional stage and sound system, recently renovated & updated;
The Rick Steiner Black Box Theater
, scene shop, and new classrooms.
Meet the faculty!
The Walnut Hills Theatre & Speech department offers courses ranging from the basic to advanced levels in Theatre Arts. Basic Drama is the introductory performance course, while Stagecraft I is the introductory course in technical theatre, and Intro to Costuming is the introductory course for costumes. Advanced courses include Advanced Theatre I and II, Styles of Acting & Directing, and Stagecraft II. Included in the course offerings is Time to Speak, which is an elective.

Cappies of Greater Cincinnati
Walnut Hills High School will once again be participating in the Cappies of Greater Cincinnati program. If you are interested in learning more about Cappies, or being on the critic team for WHHS, please visit:
www.cincicap.com
, or
contact Mr. Sherman
for more information.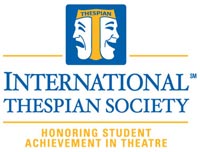 International Thespian Society
The WHHS Theatre Department is a proud member of the International Thespian Society, Troupe 456. Members of the high school theatre honor society have shown active participation in Walnut productions, and are selected by their peers for their hard work and dedication to the program.