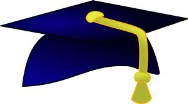 SENIOR ORDERS - Cap, Gown & Announcements
Attention Seniors:
Graduate Service is now taking orders for Cap & Gown and Announcements. Packets are available for pickup at school in the Main Office & 2209, Monday-Friday from 8am-3pm. More information can be found in the packet and by watching the Virtual Grad Achievement Seminar. The ordering deadline is December 5th!
Student Order Day is Friday, October 7th during lunch
Graduate Service will be in the cafeteria to take your order in person
*Note:
Caps & Gowns ordered through Amazon or other retailers that do not match will not be allowed at graduation.