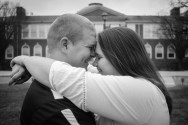 EAGLE LOVE STORIES
My husband and I started "dating" in the 8th grade at WHHS. Mrs. Donnett broke up our first kiss in the hallway (she was also a guest at our wedding!).
Mike Brown was the captain of the football team. I helped start the Nut House in 2008-2009.
We continued dating through college and are now married! We had some engagement pictures taken at WHHS (thanks to Debbie Heldman!).
Mike has coached football at Walnut (2011-2013) and I just coached my first season of tennis for the JV boys team and we went 12-1!
None of this would have happened if we didn't go to Walnut!
Thanks! Go Eagles!
Liz (Keller) Brown