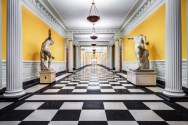 Up and Coming Reunions and Events - 2020
2020… If a planning committee is not indicated, please contact the Alumni Foundation to get the ball rolling!
PLANNING COMMITTEES PLEASE NOTE THE ALUMNI FOUNDATION REQUESTS NO REUNIONS THE WEEKEND OF JUNE 12-14, 2020
Class of 1950 - - June 6, 2020
Class of 1958 80th Birthday Celebration - CLICK HERE TO REGISTERSaturday, June 27, 2020
Birthday Dinner at Montgomery Inn Boathouse, 925 Riverside Dr. 45202
$58. per person
Reunion Contact;
Alan Rosenberg, alankeyshill@gmail.com
Class of 1960 - August 28, 29, 30, 2020 LINK TO REGISTRATION
Friday Noon, Back To School - Audit an actual class with current students!
Friday Evening, Meet and Greet
Saturday 10 AM WHHS Campus Tour
Saturday Evening, Dinner at the Mercer, Vine Street in the gentrified Over the Rhine
Sunday, Brunch on the Roof, overlooking Cincinnati
Committee:
Evie Brod, EBrod@cinci.rr.com
Robert Brown, brownlawohio.com,
Catherine Hover Lippert, cathlipp@juno.com,
Susan Louiso, slouiso@gmail.com
Ellen Katz Greenberger, Richard Lisner, Linda Glassman Olasov, Bill Strauss, anyone who wants to participate; all classmates welcome!
Class of 1970 - August 28, 29, 30, 2020
Friday at Belterra Park, 6301 Kellogg Rd 45230
Saturday AM WHHS Campus Tour
Evening at The Redmore Event House.
Reunion Contact: Ernest McAdams, Jr. efmjr@fuse.net
Class of 1975 - September 4, 5 & 6, 2020 - LINK TO REGISTRATION
2020 Labor Day Weekend, once again the class of '75 is flipping tradition...
the 45th Reunion 'main event' will be
Sunday, September 6,
2020!
Friday, September 4th
50 West Brewing in Mariemont
Meet and Greet
Saturday, September 5th
Tour at WHHS Begins at 10 - ends at Noon with Graeter's Ice Cream in the Circle
Sunday, September 6th
The Summit a Dolce Hotel
7-11 PM Brew and Barrel The space is perfect for mingling, appetizers/carving stations, and bar.
Link to Hotel Room Block - Make your reservation today!
Reunion Contact: Liz Betemps, lizbetemps@gmail.com
Class of 1980 - October 9 AND 10, 2020
Margo Kirstein, margo.kirstein@7hills.org
Class of 1985 – October 9th thru 11th, 2020!.
Friday Evening - Football Game (meet on the Plaza)
Saturday Morning - Tour of original WHHS
Saturday Afternoon - Family Gathering @ Paula Tojo-Hensley's Estate
Reunion Contact: Terez Mays-Jones, terezmays@hotmail.com
Class of 1990 - September 18 - 19, 2020 - Homecoming Weekend
Check back for more details...
Reunion Contacts:
Angela Owens
Class of 2000 - September 18 - 20th - Homecoming Weekend!
Stay tuned for more details of the Class of 2000's 2020 20th Reunion...
Reunion Contact: Sadye at
sadye1223@gmail.com
Class of 2010 - Date TBD